After working as a Catalog Librarian at the University of Illinois at Chicago and as a Metadata Librarian at the College of Saint Benedict/Saint John's University, I worked as one of the editors of the Dewey Decimal Classification from June 2018 to October 2020. You can read more about what I accomplished in that position.
My goal is to create a community of people who care about the ethics of classification and cataloging.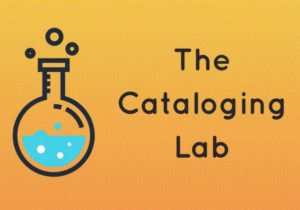 One of the ways I've worked towards that goal is the creation of the Cataloging Lab, launched in January 2018. Based on a project devised with fellow catalogers Jessica Schomberg, Catherine Oliver, and Netanel Ganin, the Cataloging Lab is a wiki designed to promote cooperation in proposing revisions and additions to the Library of Congress Subject Headings. Non-catalogers and catalogers can work together to do the research required to submit proposals to LC. Read more about the project in my Library Journal article "Creating Change in the Cataloging Lab" or watch the recording of the June 2018 Carterette Series Webinar on "Experimenting with Controlled Vocabulary: Using the Cataloging Lab to Shape LCSH".
My alma mater, the University of Washington iSchool, wrote a profile of me in March 2020: "iSchool alumna makes Dewey work for everyone".
scholarly publications:
"My Zine Life is My Private Life": Reframing Authority Control from Detective Work to an Ethic of Care (co-written with Kelly Swickard). Chapter in: Ethical Questions in Name Authority Control, Library Juice Press, 2019
Authority Work as Outreach (co-written with Tina Gross). Chapter in: Ethical Questions in Name Authority Control, Library Juice Press, 2019
interviews:
Cataloging (podcast guest), Linking Our Libraries podcast, April 2019
presentations:
Casting a Critical Eye on Cataloging and Classification, Connecticut Library Association Technical Services Section Fall Program, November 2020
Critical Cataloging: Revealing and Dismantling Hegemonic Systems (informal virtual discussion with Treshani Perera), Metropolitan New York Library Council, October 2020
Critical Cataloging Power Hour (presentation with Heidy Berthoud, Whitney Buccicone, and David Heilbrun), Potomac Technical Processing Librarians annual meeting, October 2020
Ethical Cataloging (workshop with Gretchen Neidhardt), OLAC 2020 conference, October 2020
Big and Bold: the Audacity of Shared Metadata (invited keynote), CILIP MDG (Metadata and Discovery Group), September 2020
Harm Reduction in Library Classification, Northeast Ohio Regional Library System workshop, March 2020
Addressing Bias in Your Catalog (presentation with Tammy Moorse and Tiffany Wilson), Public Library Association conference, February 2020
Implementing Local Alternatives to the "Illegal aliens" LCSH (presentation with Tina Gross, Cate Kellett, and Karl Pettitt), ALA Midwinter, January 2020
Imagine the Possibilities: RDA-LRM, Authority, and Social Justice (presentation with Stephen Nonte), Minitex Technical Services Symposium, November 2019
No Gods, No Masters, and Instead Coalitional, Honest, Kind, Non-Abusive, Anti-Oppressive, Real-Deal, On the Ground, Radical Librarianship (panel with Lacey Torge, Kate Adler, and Kit Rashid), Maintainers III Conference, October 2019
Harm Reduction in Library Classification, IDEAL Conference, August 2019
Cataloging the Living (presentation with Joshua Barton), ALA Annual Conference, June 2019
The Cataloging Lab: Your Invitation to the Super Secret Process of Changing Library Classification, ABQLA (Association des bibliothécaires du Québec / Quebec Library Association) Conference, May 2019
Creating a Collaborative Approach to Classification: Moving Beyond "This System Sucks", Conference on Inclusion and Diversity in LIS, November 2018
Experiments in Controlled Vocabulary Improvement: How You Can Effect Change in Library Catalogs, New Librarian Summit, August 2018
The Cataloging Lab: Encouraging Collaboration for a More Effective & Inclusive LCSH Proposal Process, ALA Annual Conference, June 2018
Catalogers' Insights on Critical Information Literacy Strategies (presentation with Naomi Skulan), Minnesota Library Association Academic & Research Libraries Division Day, April 2018
The Gestalt of Authority Work: Making Sense of Identity Management, ALA Midwinter, February 2018
Never Forget Who You Really Work For: Radical Cataloging and the Case for Local Adaptation (panel presentation with Tina Gross, Hannah Buckland, and Jessica Schomberg), Minnesota Library Association conference, October 2017
Mavericks!: How Embracing Your Inner Nonconformist Makes Our Catalogs Better (presentation with Catherine Oliver and Stephen Nonte), Lake Superior Libraries Symposium, June 2017
Behind the Curtain: Demystifying the Subject Approval Process (workshop with Catherine Oliver, Jessica Schomberg, and Netanel Ganin), ACRL conference, March 2017
What Exactly is an "Action-Adventure" Game, Anyway?: Providing Intelligent Access to Video Games (presentation with Jin Ha Lee et al.), ALA Midwinter, January 2013
Everyday Cataloger Concerns: Focus on Education (presentation with Allyson Carlyle, Rachel Ivy Clarke, Paul J. Weiss), ALA Midwinter, January 2013
professional leadership:
Chair, SAC Working Group on Alternatives to LCSH "Illegal aliens," June 2019-present
Member, CaMMS Subject Analysis Committee, 

June 2018-present

Member of LAIPA (Latin American and Indigenous Peoples of the Americas) SACO funnel, November 2017-present

Member of ALA/Subject Access Committee Working Group on LCSH "Illegal Aliens,"

 

January 2016-July 2016

Member of ALA/ALCTS Planning Committee,

July 2014-June 2017